Kunene and the King transferred to The Fugard Theatre in April 2019, hot off its world premiere at The Royal Shakespeare Company's Swan Theatre in Stratford-upon-Avon in England. This moving and funny two-hander provides a fitting tribute to mark the 25th anniversary of South Africa's first democratic elections after apartheid.
Written by actor, activist and playwright John Kani (The Tempest, The Island, Sizwe Banzi is Dead, and movie Black Panther), who was last seen on The Fugard Theatre stage opposite Sandra Prinsloo in So Ry Miss Daisy, Kunene and the King reunites a powerhouse team with director Janice Honeyman (The Tempest,…Missing, Nothing But The Truth, Hello and Goodbye, The Fugard Theatre's production of The Mother) and John Kani performing opposite Sir Antony Sher (The Tempest, The Fugard Theatre's production of Broken Glass, the RSC productions of King Lear, 2016 & 2018 and Death of a Salesman).
First performance
21 March 2019
Final performance
25 May 2019
Venue
The Swan Theatre
(21 March 2019–23 April 2019)
The Fugard Theatre
(30 April 2019–25 May 2019))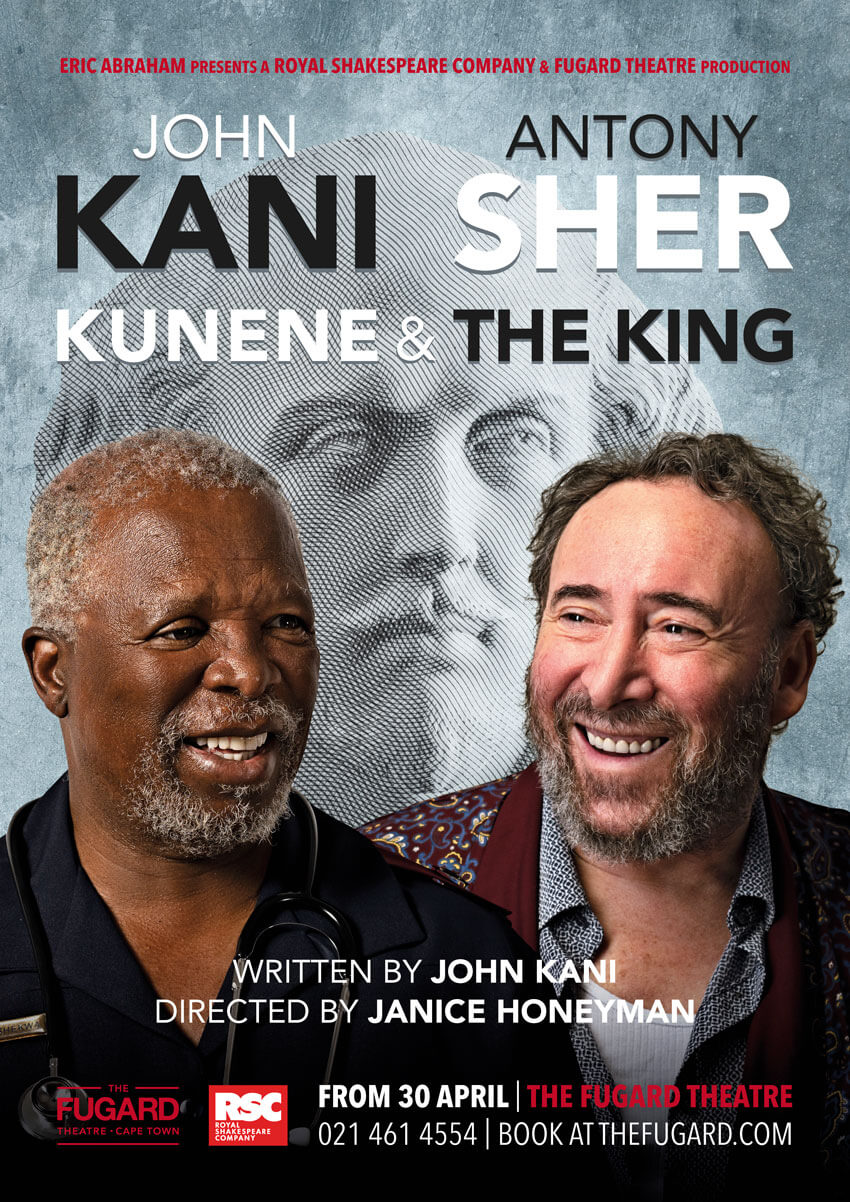 John Kani
Lunga Kunene
Antony Sher
Jack Morris
Lungiswa Plaatjies
On Stage Musician
Producers
Eric Abraham for The Fugard Theatre
The Royal Shakespeare Company
Producer for The Fugard Theatre
Daniel Galloway
Producer for the RSC Ben
Tyreman
Co-Producer for The Fugard Theatre
Lamees Albertus
Associate Producer for The Fugard Theatre
Georgia Lahusen
Playwright
John Kani
Director
Janice Honeyman
Assistant Director
Nel Crouch
Production Design
Birrie le Roux
Lighting Design
Mannie Manim
Original Sound Design for the RSC
Jonathan Ruddick
Sound Design re-created for The Fugard Theatre
David Classen
Composer
Neo Muyanga
Directing Intern
Siphelo Mtshetsha
Production Manager
Andreas Ayling
Props Supervisor
Alison Tanqueray
Wigs Supervisor
Sandra Smith
Head of Running
Wardrobe Sandy-Smith Wilson
Wigs & Make-up Team
Charlie Griffiths
Jill Leather
Debbie Lukic
Rachel Seal
Wardrobe Technician
Rebecca Rees
Dresser
Michael Nolan
Production Lighting Technician
Simon Spencer
Lighting Programmer
Tim Owen Lighting
Technician
Matthew Coombes
Production Sound Technician
Andy Franks
Sound Desk Operator
Chris Vernon Video Oli Quintrell
Senior Automation Technician
Richard Smith
Automation Technician
Ian Kilpatrick
Senior Stage & Props Technicians
Al Pitts
Kevin Wimperis
Stage & Props Technicians
Dan Avery
Pete Read
Oscar Turner
Company Voice & Text Work
Cathleen McCarron
Photography for The RSC
Ellie Kurttz
Company Manager
Pip Horobin
Stage Manager
Maggie Mackay
Deputy Stage Manager
Juanita van Wyk
Assistant Stage Manager
Kei-Ella Loewe
Special thanks to Dr Kathryn Mannix, author of With The End In Mind and Medical Advisor on this production; Dr Peter Correa (Consultant Clinical Oncologist), Dr Paul Davis and Dr Allison Russell; Christine, Jo, Melanie and the staff at The Shakespeare Hospice, Stratford-upon-Avon.

The Fugard Theatre production team
Production Manager
Luke Ellenbogen
Technical Manager
Benjamin du Plessis
Resident Technical Stage Manager
Shayna Gleave
Deputy Production Manager
Sean Whitehead
Wardrobe Supervisor
Widaad Albertus
Dressers
Carmen Abrahams
Frances Moerdyk
Stage Managers
Juanita van Wyk
Ulibo Maake
Assistant Stage Manager
Kei-Ella Loewe
Lighting Programmer
Benjamin du Plessis
Sound Operator
Justin Barends
Crew
Angelo Petersen
Achmat Khroodien
Set Construction
Gerhard Morkel
Carl Gersbach for CHG
Prop Construction
Koos Marais
Scenic Painting
Nadine Minnaar for Scene Visual Productions
Photography for The Fugard Theatre
Claude Barnardo
Publicity
Christine Skinner
★★★★★
"John Kani beautifully captures the complex divides of race, class and politics in a remarkable and moving new play."
The Guardian
★★★★
★
"Kunene And The King written by South Africa's great theatre star, the 76-year-old John Kani, is a deeply human play… It's fierce, funny and never cheesy"
The Daily Mail
★★★★
"Kunene and the King is 'n moet sien, veral as jy steeds glo in die mense en moontlik hede van hierdie geliefde land."
Die Burger
★★★★
"Engrossing, and executed with consummate skill."
The Times
"Antony Sher and John Kani impress in this transracial reckoning."
The Telegraph
"John Kani's Kunene and the King is a triumph and a privilege."
Bizcommunity